This exceptional cru is widely known as producing very complex wines, and here has produced a wine from vines of 45 years of age on average. Again we find this unique soil: rocky, stony, well-drained and comprising a variety of Bathonian stones. All the length and complexity of this cuvée comes through in an agreeable, amiable wine, open and already aromatic. It also has great cellaring potential.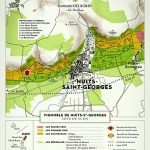 +
Vinification and aging:
The harvest is manual and made by the Hospices de Nuits estate. The harvest is transported in small crates so as not to crush the berries. When they arrive at the Hospices winery, the grapes pass through a vibrating table to extract insects or leaves from the harvest. The grapes then pass on a sorting table, so that unripe grains or rots are removed.
The harvest is completely destemmed before being placed in the vat. Fermentation starts naturally thanks to indigenous yeasts.
Moderate punching down and regular pumping over punctuate the few days of vinification. The wines are then intoned in new barrels, and begin their aging in the cellars of the Hospices de Nuits.
In March, after 6 months of aging and following the auction, the acquired barrels leave the Hospices cellar and settle in the cellar of Château de Charmont, next to the Premiers and Grands Crus of Maison Edouard Delaunay.
The wine finishes its aging in its original barrel or is re-intoned if we deem it necessary for its good development.After 9 months of aging in our cellars, the wines are then ready to be bottled and reach the cellars of our customers.
The estate produces 140 barrels each year, divided into 18 vintages.
Participate in the next sale